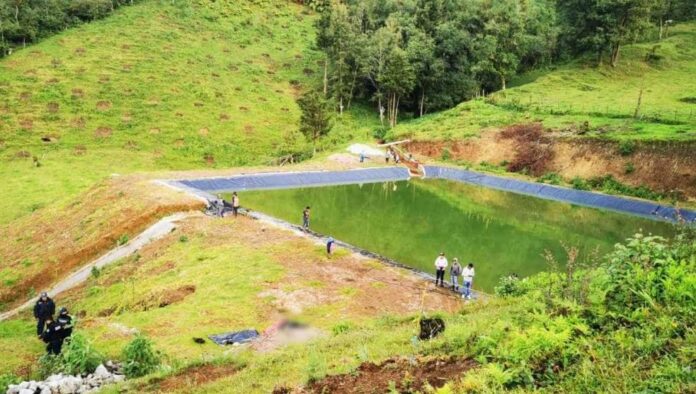 XALAPA, VERACRUZ. – In less than 48 hours, two tragedies were registered in the municipalities of Ayahualulco and Cosoleacaque, Veracruz. In a dam, three minors fell by accident and died. Four-year-old Brayan drowned while swimming in a southern river. His family has been desperately searching for his body since last Thursday, July 15.
The most recent event occurred this Friday, July 16th, in Ayahualulco, located 50 kilometers from the capital, Xalapa. Two brothers aged 10 and 12 and a friend of theirs (also 10 years old) suffered an accident when they were walking through the Tres Aguas artificial dam, in the San José Tecoba neighborhood.
The 10-year-old boy slipped while walking on the edge of the dam and fell to the bottom of the body of water. His brother and his friend tried to rescue him and apparently dived after him.
Locals realized what had happened and, with effort, carried the bodies of the three minors to the edge of the dam. They tried to revive each of them, but it was too late. All three passed away.
In Rio Coatzacoalcos they look for Bryan; his parents yell at him to come back
In southern Veracruz, a similar tragedy occurred on July 4. Little Brayan, four years old, drowned when he was swimming in a river that lies under the Antonio Dovalí Jaime bridge, located between the municipalities of Coatzacoalcos and Cosoleacaque.
According to state authorities, the little boy was swimming with his family on the riverbank but was swept away by the current, his grandmother tried to rescue him, however, it was impossible.
Even though several people tried to search for him, it was not possible to find his body, so they notified the Civil Protection and police authorities. The search for Brayan has gone viral, as his family has resorted to different methods to find him.
In a video published by Alor Noticias, the minor's family is shown yelling at him by his name on the bank of the river where he drowned. "Bryan, let's go home, Bryan," they call him.
The inhabitants explained that this is a custom for the infant's body to float and be recovered by his parents.
Source: La Silla Rota